Customer

I recently visited the original Dishoom restaurant in Covent Garden. Dishoom is a small restaurant group which claims to pay homage to the Irani cafes and the food of Bombay by 'combining the welcoming atmosphere of the Irani cafes with the delicious Bombay cuisine'.

This was my second visit to Dishoom (the first one being the Manchester one which has only recently opened) and both times the experience was wonderful.

Dishoom has been largely successful since it first opened in 2010. It has won numerous awards (including Yelp! Best Restaurant in the UK 2015 & 2016, Good Food Guide Best Small Group 2016) and, despite the fact you cannot book a table, it always seems to be full, to the extent that when I visited at 10:30pm on a Saturday there were queues going out of the door.

We say it over and over again, but in the leisure industry, the hospitality industry and beyond, everything is becoming an experience, and eating out is no different.

Dishoom's Cx is just that- an experience. And here's a few reasons which I believe are attributable to its success…

Reasons for success

The food
This might seem silly, claiming that food can amplify a restaurant's brand, but trust me- this food can. You can just tell that it has been made with good ingredients. They source what they can locally and everything is homemade using traditional, faultless recipes.

On top of this, Dishoom has elevated its menu throughout the day, making 'Indian breakfast' a thing I am intrigued to try. Their aim is to bring people together over food, all day every day, so that food needs to be something special. Most Indian restaurants tend to have endless, complex menus, but Dishoom keep it simple; you have to trust that what is on that menu is going to be good.

As a brilliant way of demonstrating the pride and transparency in their menu, they have released a cookery book including recipes for dishes on their own menu.



The queue
Again, you are probably wondering why on earth I would suggest that a queue could amplify a brand but once again, Dishoom has it sussed.

A normal queue causes feelings of annoyance, boredom and frustration. Dishoom's queue builds anticipation, makes you feel welcome and makes you feel like you're about to try something really special.

How? The queue itself makes you feel like it must be worth waiting for, but the efficiency and attentiveness of the staff whilst you are waiting secures this feeling. You are brought warm chai tea on cold nights under the heaters, umbrellas in the rain and on some nights they even bring out a range of liquors to try- all on brand of course.

You feel secure that the staff know what they are doing- no one can push in front and tables below 6 people can't book so you know you are all in the same boat. They are honest and open about the waiting times (if anything, they over-estimate it).


The staff and their values
The owners of the brand talk about their dedication to ensuring that their staff are motivated, their skills are developed and that they are well looked after. They clearly live by this as they have won awards for being a great place to work (no. 19 best company to work for in the Sunday Times top 100).

This care towards staff has led to the service in Dishoom being relaxed and informal whilst remaining efficient and expert. The staff know what they are serving, they can answer your questions and recommend what they personally like, not what needs sold that day.

They recruit based on their belief in humanity and motivate all staff to follow this belief. It shines through in the service.


The Brand's values
This one is a biggie for me and would make me choose Dishoom over other brands. They live and breathe their values to the extent that for every meal they serve, they donate a meal to a child who would otherwise go hungry. They have donated 7 million meals so far.

Their belief in 'breaking down the barriers' just like the old Irani cafes did, means that they aim to bring people together, regardless of culture, class or religion. Their open spaces symbolise this as soon as you walk into the room, and their celebration of various religious and cultural events, where everyone is welcome, demonstrate this in practice.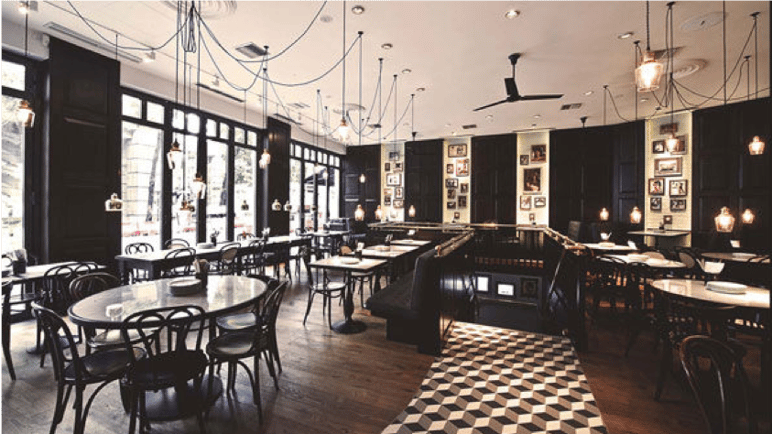 Alignment

The reason I believe that all of this works for Dishoom is because it really feels authentic. They believe in their values, they are not just there for show. They believe in the food they are serving and the atmosphere they want to create- we can all see through a forced atmosphere and we hear all the time in research that it needs to be genuine.

The recipes they use are inspired by the food they ate as children and they have family portraits scattered around the walls to include their customers in this story. The décor and the lighting create a warming feel and all the quirky signs on the walls are conversation starters from the moment you walk in.

Because they believe in what they are saying and what they are doing, and because they are able to bring their customers into this journey, a great customer experience can naturally follow.